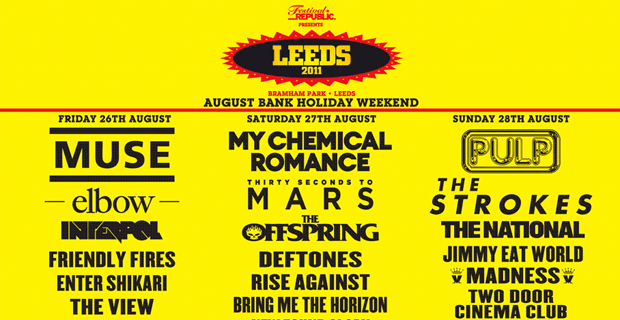 50 days.  That's how long you've got to wait before you can crack open your first icy cold beer at this year's Leeds Festival. Right now it may feel like an endurance trial worthy of Bear Grylls (minus the pee drinking) but trust us, your patience will be rewarded.  For years Leeds Festival has taught its native Northerners how to throw a party in style. As a result it's earned itself an anything-goes word of mouth reputation. Pulp, The Strokes, Elbow, My Chemical Romance and Muse may be dominating this year's event, but the fun doesn't stop when the main stage lights go out.  Here at Northern Noise, we're worried that you may miss out on the hidden treasures on offer at this year's event.  So here's five things you MUST do at Leeds Festival 2011:
Don't neglect the Alternative Stage
The main stage often becomes the focus for many festival goers. However any seasoned veteran knows that there are a multitude of visual and audible delights to be found just a short walk away.  Head on over to the Alternative Stage this year to catch something a bit different. Friday will see Nirvana's iconic 1992 Reading set screened in its entirety, showcasing the exact moment in time that these Seattle slackers became grunge legends. Next up is punk rocker turned public speaker Henry Rollins delivering a Saturday night spoken word set guaranteed to head butt through your bleary boozed up mind and get your brain working. Meanwhile on Sunday rap-poet renegade Saul Williams returns to the North for a performance that's sure to get pulses racing.  Williams' provocative tongue, traditional hip-hop mentality and gloriously out-there visuals set him apart from most mainstream acts.  Forget the Main Stage, this is where it's at.
Hit up some midday NME Stage action
The NME Stage is the place to be to ensure you stay ahead of the musical curve and 2011's roster is a bit of a jaw dropper.  What better way to fend off that looming hangover than by heading into the cool shade of a colossal circus tent and catching some early afternoon awesomeness. Having stormed Manchester's FuturEverything fest earlier this year Toronto's Fucked Up head further North to kick things off in Leeds on Friday. While surf-pop trio Best Coast may have been forced to pull out of their FuturEverything duties they're guaranteed to more than make up for it at Bramham Park. NN faves Mona make a pit stop on their rise to the to top to squeeze in a midday Saturday performance while Sunday boasts sets by Manchester's own Everything Everything, fuzz-rockers Yuck and a not-to-be-missed appearance by Odd Future. Make sure you're there.
Catch Elbow…
It's been a pretty exciting year for Manchester's own post-Britpop band.  Having released their fifth studio album, the nostalgia drenched Build A Rocket Boys! to thunderous applause festival season seems to be treating Elbow quite well.  Guy Garvey and co are due to take to the Main Stage on Friday to inject some Northern spirit straight into the heart of Leeds. Expect a bi-polar rollercoaster of emotions. The rollicking Grounds For Divorce is sure to incite a riot within the thousand strong crowd while the sombre and complacent Lippy Kids is guaranteed to stop ticket holders in their tracks and get them swaying.  No easy feat, but something this Mancunion five-piece have perfected none the less.
Wander about!
After the amps are turned off and all the bands have gone to bed it's time to go find the real fun.  Leeds Festival campsite is a bit like Narnia: you'll see some weird shit but just go with it.  Grab a six-pack of beer or a hastily mixed bottle of vodka orange (preferably strong enough to power a small aircraft) and head out into the campsite wilderness after hours.  Chances are you'll find some pre-arranged fun – campsite DJ's, a budget fairground, the cinema tent, a five aside football pitch…but it's the random entertainment you discover by drunkenly befriending your fellow campers that's worth writing home about.  Sleeping isn't on the agenda so go ahead, stay out till daylight.
Go green and get involved!
What's a music festival without beer? If you find yourself running low on slurpable supplies this year help yourself by helping the environment. Grab yourself a recycling bag and go on a can hunt. Leeds Festival rewards good Samaritans, in other words, one full bag of empty cans will earn you a nice cold beer so you really have no excuse to be sober this August Bank Holiday weekend. Dying to do more than simply stand by and watch the smorgasbord of artists performing at Leeds Festival 2011? The campsite DJ's may hold the answer to your woes. If you're a budding record spinner and want to show Leeds' camping community what you're made off then simply bring your CD's or iPod to one of the many all night campsite DJ tents and you can perform your very own 20-30 minute set.  If DJ'ing isn't your cup of tea then again, you needn't worry, Leeds Festival often features a Rock Up and Play tent where you and your musically frustrated buddies can sign up to blast out your unsigned tunes to the festival masses.  You'll also be able to tell your mates that you played Leeds Festival 2011…
Leeds Festival 2011 takes place between 26th-28th August at Braham Park, Leeds. Head here to purchase tickets.
Words by Simon Bland.