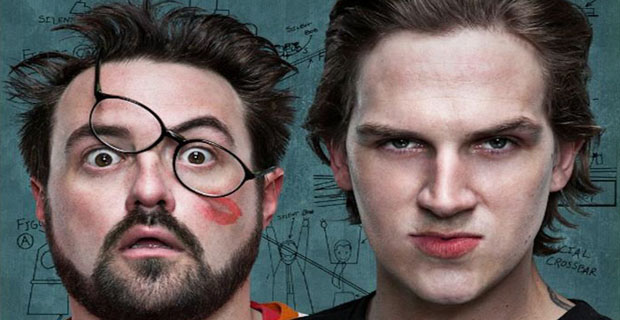 Next month Jay and Silent Bob trade the Quick Stop for Manchester's O2 Apollo. The movie duo, better known as Kevin Smith and Jason Mewes, arrive in town as part of their hotly tipped UK podcast tour. They'll be on stage recording Jay and Silent Bob Get Old which, as fans of Smith's SModcast network will know, is just one of many hilariously funny and completely free podcasts available online.
For those unfamiliar with all things SModcast, here's a quick history lesson. A few years back Smith and his long time producer pal Scott Mosier created SModcast (SM=Smith/Mosier), a weekly audio show which quickly became a fan fave. Deciding to give directing a bit of a break, Smith saw his chance to sculpt an online talk radio empire and took it. Cut to 2012 and there are now over twenty podcasts under the SModcast banner, all of which are streamed live on Smith's SModcast Internet Radio station.  Jay and Silent Bob Get Old is one of Smith's most popular shows and arrives in the UK in early February for a long over due UK tour.
Chronicling the duo's long-term friendship, the show is a candid and tearfully funny account of Smith's early years and Jay's long standing battle with drugs. Rarely censored and always hilarious, Smith also believes the show played a major role in saving his partner's life, giving him a public forum on which to unload his uniquely troubled life story. All three UK dates will be recorded and released for free online at a later date.
A handful of excitable fans were treated to a brief audience with Kevin Smith last September during an early screening of his excellent new horror Red State. However, due to the small cinema screen venue, many Northern Smith-ites weren't so lucky. Thankfully, this theater tour will allow all those who missed out last time to spend an entire evening with these geek icons. Full tour dates can be found below. Snoogans.
UK DATES
17th February O2 Manchester Apollo
18th February London HMV Hammersmith Apollo
19th February Edinburgh Festival Theatre
Check ticket availability here.
 Are you going to see Jay and Silent Bob Get Old in Manchester? Which SModcast podcast would you like to see tour the UK next?
Words by Simon Bland.