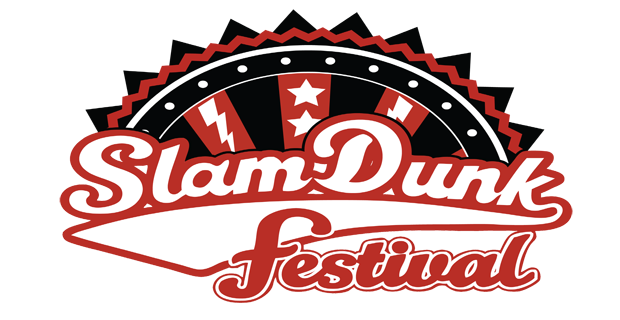 With winter trailing behind us we can start to look forward to 2012's packed festival slate. First up on our radar is the UK's biggest pop-punk and alternative event, Slam Dunk, which is celebrating its 7th year in style. The debut line up announcement was strong with genre kings Taking Back Sunday topping the bill as a UK festival exclusive accompanied by fan-faves Set Your Goals, Mayday Parade, Forever The Sickest Kids, Architects, Cancer Bats, Every time I Die, The King Blues, Make Do And Mend and The Audition. If somehow that wasn't enough to get your live-music juices flowing then yesterday's second band reveal was guaranteed to do the trick. Slam Dunk 2012 can now confirm sets from the likes of Motion City Soundtrack, Say Anything, Lower Than Atlantis, The Blackout, Hit The Lights and The Story So Far just to name a few.
With such a powerhouse selection of alt-punk bands on show, Slam Dunk has quickly become one of the hottest events of the pre-festival season. And it's not just Northern music fans who are rejoicing, Say Anything frontman Max Bemis is overjoyed at the thought of returning to British soil. "We are so very excited to return to the UK on such a great bill," explains Bemis, "it's literally one of my favourite places to play shows in the world. We're honored!"  The Blackout can't wait either, "Slam Dunk has always been a great festival to play. It's just a massive party," explains the band, "we're super excited to be playing it again and there are some cracking bands playing that we're all excited to see too." You can expect more acts to be announced in the coming months, in the meantime however why not check out our Slam Dunk 2011 coverage by heading right here.  Tickets for 2012's show are on sale now and can be bought here.
UPDATE:
Slam Dunk recently made a few extra line up announcements, topping off what is already set to be next month's biggest event.  Funeral For a Friend, Marmozets and Canterbury have been added to the bill and also the headliners for this year's Acoustic and Dance Stages have made themselves known. Ex-Busted frontman Charlie Simpson will top this year's stripped down Acoustic stage, he'll be joined by the likes of Into It, Over It, former Valencia band member Shane Henderson and cult hero Rob Lynch. Slam Dunk also promises a handful of secret and surprise performances from some of the event's other acts. And finally, this year's Dance Stage will feature a headlining DJ set from Hadouken with more dance acts to be announced in the coming weeks.
Be sure to follow us on Facebook and Twitter to keep up to date with all the latest Northern Noise news!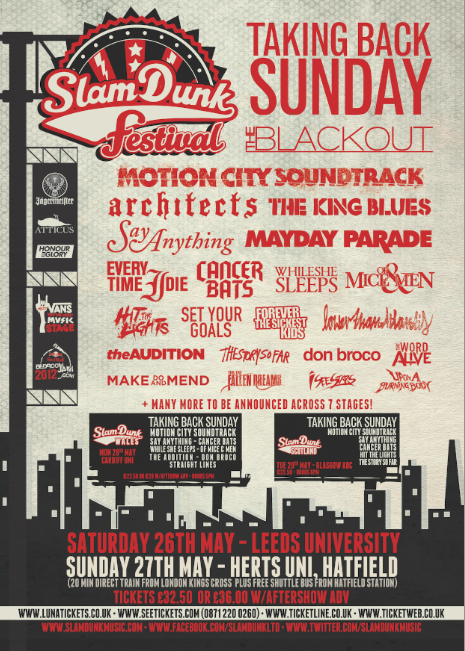 Words by Simon Bland.