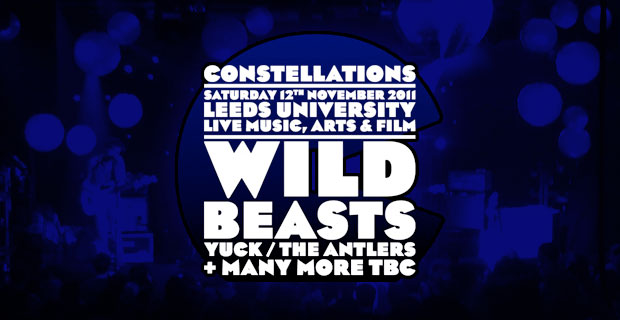 It's never easy to get students out of bed but for the second year running Constellations Festival has done a great job. This one-day event turns Leeds University campus into a site of revelry. The beer is cheap, the venues are extravagantly decorated, and the line-up is equally eye-catching.
The inaugural year saw Sleigh Bells, Broken Social Scene, The Vaccines, and Four Tet performing. Once city residents, Wild Beasts, were headliners this year.  We were given an impressive programme including a map to guide us round with this disclaimer on it: "Do not use this map in the event of a fire or any kind of emergency. It's almost useless."
The first stage-time clash saw two groups with the best names on the bill going head-to-head. Leeds-based Hookworms, opened the Riley Smith hall while our day began in Mine – a narrow, intimate tunnel of a venue. Getting things going were the intriguingly named, Fear Of Men – a four-piece comprising of a contradicting boy-girl split. The set begins with Ritual Confession, a retro-pop slice which has a C86 jangle reminiscent of the recent revivalist figureheads, Veronica Falls.
 A sizeable crowd is gripped by the smooth-pop vocals of frontwoman, Jess, who adds a nostalgic quality – easily comparable to Blondie's iconic Debbie Harry, or in contemporary terms Summer Camp's Elizabeth Sankey.  The group's proclivity for pop gets heads nodding.
Fear of Men- Ritual Confession by italianbeachbabes
Liverpool's buzz-band, Outfit, continued to loosen the crowd in what was their first ever festival appearance.  We're aware that Outfit, who only formed at the beginning of this year, previously entertained the same idea of media anonymity which has proved successful for Manchester's Wu Lyf. Today though it seems like they're perfectly happy to reveal their identities – well, all except the bassist, who remained hidden for the entire set behind a large speaker on the right-hand-side. Maybe he had his back to the audience because he couldn't fit on-stage or maybe he's a super-cool enigma, who knows?
One thing's for certain, this outfit is very tight, despite having a member facing the wrong way. Their two-part harmonies and four-four beats add a Hot Chip essence to what is fundamentally a guitar-driven core. There's a lot of creativity at work too. Two Islands begins with a bongo-beat solo before light synth sprinkles add delicacy. We're not just watching an indie-synth '80s throwback though; keys provide delicate textures rather than overwhelming crescendos. Killer is a more subtle song in which intriguing lyrics intertwine with an intricate guitar pattern. "Killer in the backseat asks me if I'm happy. I said 'you should try me'. Keep your lips pressed tightly to mine", sings the frontman.
Next we head over to the largest stage to see another band with a reliance on subtlety and obscure rhythms – Dutch Uncles. From the balcony of a very plush venue a sea of people could be seen.  It was a concern as to whether this Manchester act's daedal complexities could transfer to such a huge setting but we needn't have worried. Duncan Wallis played-up his quirky shuffles even more for the big occasion. The set saw him skip between piano and crazy time-signature dance moves mid-song as album favourites echoed around the room. Face In garnered the greatest response, while a few new songs were performed for good measure.
httpv://www.youtube.com/watch?v=uId29Ep6W-k
Summer Camp were the next to emerge, their feel good indie-pop fitting a venue you could imagine being perfect for a grad-ball. Despite confessing that she was on the verge of loosing her voice after singing Round The Moon, Elizabeth Sankey is note-perfect. There's great beauty and the geek chemistry between Sankey and Jeremy Warmsley.  Losing My Mind sees both feign anger and square up to each other to share the sentiments of a broken relationship: "This house isn't big enough for the both of us."
A projector screen switches between differing opaque family photographs, evoking a hazy retrospective longing. Rolls of '60s Hollywood film play in the background, interspersed with images of Elvis and other early icons. Their sound too has a distinctly American quality, harking back to a nostalgic surf-pop idealisation.
httpv://www.youtube.com/watch?v=EgrP6fzGKjg
"Is everyone excited about Stephen Malkmus boys and girls?" one of the duo asked playfully. We left the prom-night early to immerse ourselves in an altogether different experience. Watching Leeds' very own Vessels sound-checking we couldn't help but notice how meticulous they were with three vocal microphones – eventually used only once throughout the entire set. Their instrumental sound-mosaic was mesmerising from the very start. All highly skilled multi-instrumentalists, members would dart around stage triggering loops or playing chords to be sampled. We literally saw the layers being built around us – each musician seemingly possessed by the rhythm.
Meanwhile Malkmus was unfortunately receiving a muted reception on the larger stage. Once a major part of the hugely influential, Pavement, it seems that Malkmus' past has alluded many in this youthful audience. The slot was almost the same length as headliners were to play, and strangely it was scheduled around 6pm. Nonetheless it's great to hear him shouting about blowjobs in such a grandiose room during new single, Senator.
httpv://www.youtube.com/watch?v=pADR7Hx9xqk&ob=av2n
Next up are an act who cite Pavement as a big influence – Yuck.  Something doesn't seem right from the get-go. Holing Out is cacophonous – a din of distorted fuzz. A dissonant wall of white noise hits the ear. None of the intricacies behind the guitar shredding are audible. Shortly after the whole PA cuts out completely leaving only stage monitors emitting any noise. Making the best of it, the band goes into a spontaneous Zeppelin cover before leaving the stage. A lengthy interlude follows before the group emerge with inertia. Frontman, Daniel Blumberg, often consults the side-stage sound men in between verses while feedback mars things. Max Bloom apologises to those in attendance and Yuck finish fifteen minutes before their original allocation, despite aforementioned delays.
After this anticlimax Wild Beasts did not disappoint. By far the biggest crowd of the day jammed into the room to see the Mercury nominated band's home-coming. Tom Fleming said it was a real honour to come back to a place where he failed so miserably and play in front of so many people. The choice of songs emphasised the huge journey the beasts have been on before coming back here. Highlights are chosen from the first record – after which the band could barely afford to eat while on tour – the critically acclaimed Two Dancers, and their highest charting album to date, Smother.
Things begin with Bed Of Nails, the arpeggiated synth gets the crowd dancing from the outset. A frenzied response met Hooting & Howling too, perhaps their most well-known song to date. Hands are raised in the air as the delicate guitar riff travels throughout the room. The young audience now move back and forth in a sea of adulation. The band returns to play a three-track encore to growing adulation.  It's great to see a once small act from the Lake District embraced on such a grand occasion, as a festival in its second year continues to surpass itself.