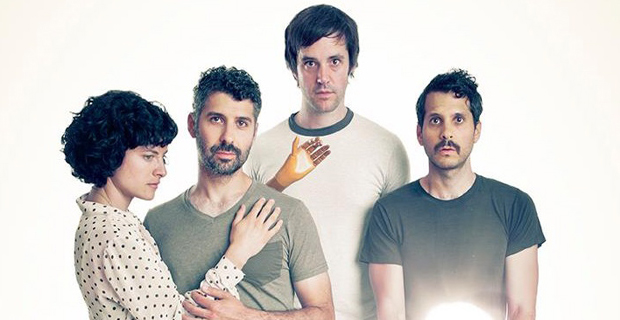 There's one thing that Manchester sure isn't short of and that's venues. Head out into its bustling streets and you'll no doubt walk past a handful of hidden haunts whilst remaining completely oblivious. Such is the nature of some of the city's finest music rooms. Central Methodist Hall is a great example of this. Rock up to its mundane Oldham Street outer shell and you'd be forgiven for thinking it was just another office block. However, head through the front doors, walk along the business end of some formal looking corridors and head up a flight of stairs and you'll find one of the airiest music venues in the Northern Quarter. This same room is playing host to tonight's guests, Why?, a band that's just as hard to pin down as it is to Google for upcoming tour dates.
However regardless of the band's search engine troubles (blame the '?' for that), a feverish and quirky looking crowd have gathered to catch Why?'s first Manchester stop in almost three years. With their against-the-grain double punch of art rock and geek rap, this Californian quartet have attracted a very Northern Quarter-y audience. One glance around the room and you can instantly spy numerous recycled charity shop jackets, cooky spectacle frames and plenty of questionable mustaches and obscure facial hair. While they all look suitably individual, they're all waiting for the same thing: tonight's show, and as frontman Jonathan Wolf (or Yoni as he likes to be called) takes to the stage, the hushed tones of anticipation reverberate around the theater.
It may only be a few days since the band unleashed their new record Mumps, etc. onto audiences but they're clearly eager to road-test their new stuff.  Album opener Jonathan's Hope kicks things off, with it's jilted, off-kilter beat and Yoni rap-recalling his battle with a swollen neck and set of nuts. A quick scan of the stage reveals that Why? mainstays Doug McDiarmid and Josiah Wolf (Yoni's brother) are joined by a trio of backing musicians for this evening's performance. As Alopecia track These Few Presidents gives way to indie hip-hop new one Waterlines, it quickly become apparent that these new faces (one of whom is Mrs Yoni Wolf herself, Liz Hodson) do wonders in adding the finishing touches to an already winning musical recipe. The band throw out a nice mixture of new and old tracks to a more than eager crowd with Sod The Seed EP tempo-tampering track Twenty Seven getting an impressive performance and Josiah Wolf stealing the show with some blisteringly fast drumming during the final moments of Good Friday.
While their recent single Sod The Seed is MIA, renditions of fan-fave tracks like The Vowels Pt 2, The Hollows and their smile-inducing new tune Strawberries make it hard to hold a grudge. A true performer, Yoni treats fans to a bit more entertainment for their buck with some enviable dance moves thrown into the mix during songs like Thirst and Brook & Waxing. By Torpedo or Crohn's and stalker love song Simeon's Dilemma end their main set in a crash of epic yet tender noise and while the band retreat backstage the crowd gets in a tizzy fast. It's not long before they're back for a quick crowd Kodak moment and two song encore. The criminally short-but-sweet A Sky For Shoeing Horses Under sets the bar unrealistically high for 'most memorable moment of the night', while the dreamy Fatalist Palmistry closes out this evening's performance leaving the crowd desperate for just one more. A fine reminder of just why they love Why? so much.
Words by Simon Bland. (@SiTweetsToo)
Be sure to 'like' us on Facebook and follow us on Twitter to keep up to date with all the latest Northern music news!