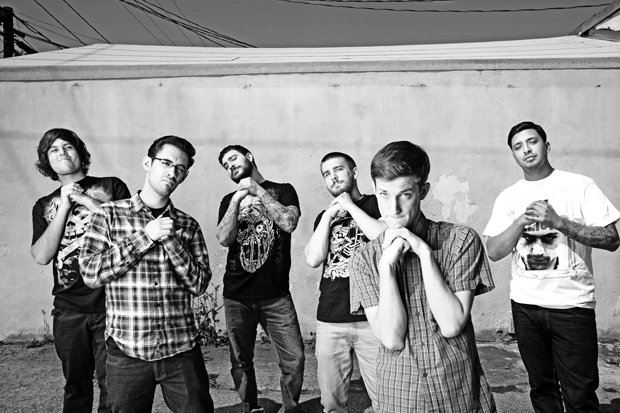 Set Your Goals were one of the stand-out highlights of this years Slam Dunk North festival.  But unlike many other amazing acts at last weekends event, these guys put on a show both onstage and off.  After storming a steamy room of rabid pop-punk fans at the Macbeth Stage, the San Francisco six-piece made sure they didn't waste any precious drinking time.  Arriving at the rammed Slam Dunk afterparty in their finest suits, they got down and dirty with fans, rocking out to the pop-punk pouring from the DJ's speakers and starting their own impromptu fan-band dance off.  At least we think that's what happened.  Like everyone else in the room, we were about ten beers under by this point…
Cut to a few hours earlier however and both Set Your Goals and Northern Noise were acting much more civilized.  We sat down with guitarist Dan Coddaire and drummer Michael Ambrose for a quick catchup in small backstage area that had been hastily transformed from a university library to a punk-rock press room.  In between discussing the guys' favourite TV shows and tour booze stories we delved into the grueling recording process for their upcoming album Burning At Both Ends, working with producer Brian McTernan and their plans for 2011…

You guys are on tour right now, how's it going?
DC: Good, lots of fun, lots of partying
MA: Our first week in Europe was just great man.  Great weather and the shows were awesome, we met up with A Loss For Words and This Time Next Year in Brighton and it's been awesome with them over here in the UK since then.  It's killer.
What do you guys do to kill time on tour?
DC: Lots of going on the internet you know, catching up on TV shows…
MA: Laptop lounge (laughs)
DC: But after shows? We've been parting a lot on this tour. There's been lots of club nights, lots of dancing
MA: Yeah, it usually gets real rowdy once the show's over. Lots of dancing.  We went to a Motown clubnight the other night, shimmied the night away
DC: Good times…
So you've been getting around a bit then?
DC: Yeah, it was my birthday on Monday so we got pretty drunk that night, went to a Fru Fru bar and we had some girly shots, it was fun,
MA: Oh yeah, we did a chilli shot…
DC: Did a birthday cake shot,
What about TV box sets, what are you powering through at the minute?
MA: Just watched The Inbetweeners season 3 DVD, we had an off day at a friends house and just ploughed through that, we saw The Hangover II that night at midnight, it was a day full of laughs…
DC: I've just got into Game of Thrones, just seen the first three episodes and I'm very into it, it's great so far.  And I've also been watching Gargoyles, that old cartoon.  It's so good man, a very well written cartoon actually; I'm really enjoying it.
There's a lot of band's here today.  Is this a reunion of sorts?
DC: A bit of one yeah…
MA: Less Than Jake and Anti-Flag were two of the bands who first took us out back when we were starting to tour full time, the first big support tours we ever did.  We played with them in Glasgow last night and it was awesome. We see them periodically throughout the year on fests and tours and stuff but it was cool getting to do a fucking show again and I've never seen Goldfinger play before, we played right before them it was insane.
Your new album Burning at Both Ends is out next month, excited?
MA: We're pumped! We're ready to release it on the world.  It was a long time coming, gruelling studio experience but very humbling and it taught us a lot and we think the record benefits because of the hell we went through to get it finished.
Is Burning at Both Ends an apt title? Sounds like you've had a busy year..
DC: Yeah,
MA: It encapsulates the whole experience and kind of history and story of the band, just one-step ahead two steps back kind of thing. But we're optimistic we always fight it off and just keep staying on the road and we're really pumped on the songs.  We're really excited for people to hear them can't wait.  Can't wait to start playing them, think they're going to integrate well and translate well live so we're stoked.
Exit Summer has quite a fast paced NOFX feel, what would you say influenced the record musically?
MA: Well the funny thing about those first two songs we released Start The Reactor and Exit Summer, is that the core of those songs were both written in 2005 (laughs).  We had demos that we never revisited and we played around with the idea one day in the studio, because we were living in the studio that we were recording in so we could play music 24 hours a day.
So when Brian (McTernan, producer) would leave we'd just jam all night and record riffs, he showed us how to demo our own stuff.  And we wrote some other parts and reworked the formula and they ended up being songs on the record,
How does the writing process usually work?
MA: Our process this time and times before, Jordan and I went into the studio for the first two weeks by ourselves and we usually work out the foundation and meat of the song and demo lead ideas and bounce stuff around and we'll lay drums down and layer on some lead ideas and scratch vocals, melodies.  They actually wrote lyrics after they had already demoed out all the melodies, so a lot of the original demos just have them just reading from a book like random words and stuff and they'll just say what sound comes out and then they fit their actual lyrics to the songs and those melodies and then leads are usually applied after to accentuate all of the vocal melodies.
So it all comes together in the end?
MA: Yeah, we kind of took a different approach this time through.  On all the other records vocals were last usually, we'd have all the music done and then vocal melodies were thrown on on top. This time they were almost stripped down – it was like drums, scratch, guitar and vocals were the most important thing, that was the foundation and everything else layered on just refined the song even more, that was the main difference.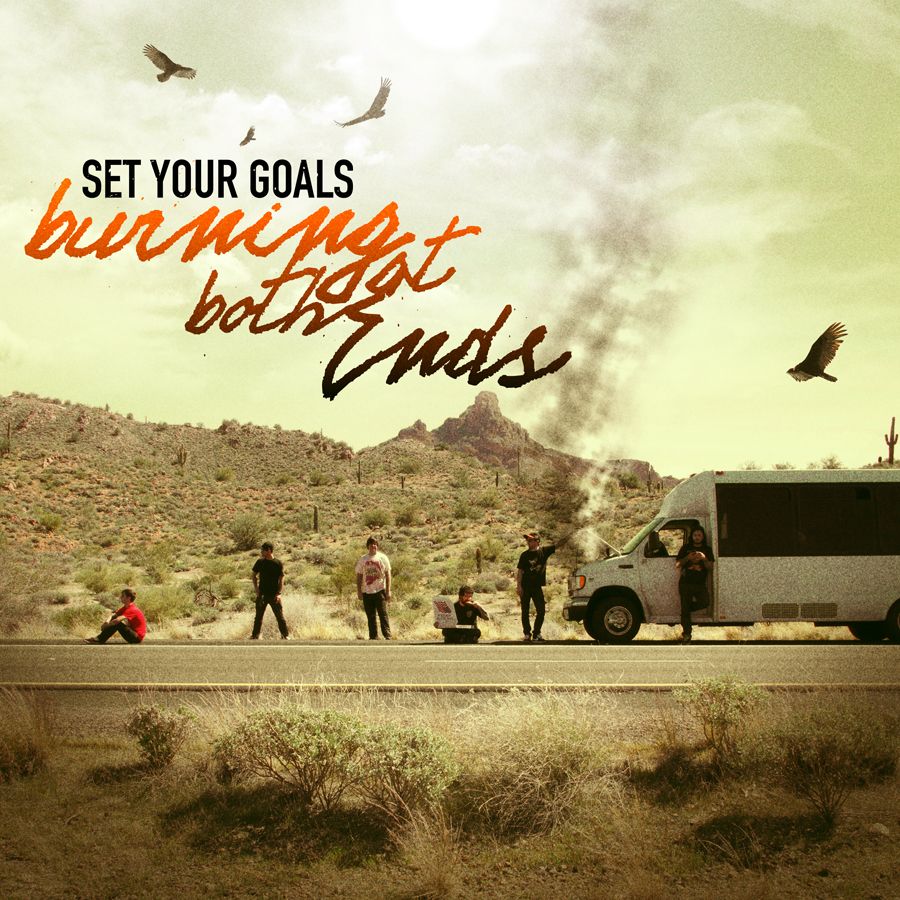 How did Brian McTernan get involved as producer?
DC: His resume was definitely something that was very appealing to us, he's worked with The Movielife, Thrice, Hot Water Music so we figured it would be a good fit and he was actually very receptive to us working with him and he was pretty excited about it.  In the end you know, unbeknownst to us we found out the hard way that he is the type of producer that will not let you just skate by. There was no half-assing anything with him,
MA: He whips your ass into shape, like we needed to be..
Like a boot camp?
DC: Yeah it really was,
MA: You can't really say he doesn't know what he's talking about, he's been doing it for twenty years you know,
DC: Yeah, he's got the records to back it up so it was the right move. To think the record definitely would have been very different had we not gone with him.
MA: We had about four or five different versions of every song before we ended up laying down the final versions.  We'd demoed all these different arrangements and just revised and revised and revised, so it felt like we wrote like three records!  Every day was like learning a different way to play the same song. It was crazy but it was worth it, you definitely see the benefit now.   Last night I was just listening to some of the version 1's and I was like 'god, if we'd just settled on this it would be a whole different record'
So it was a real learning experience?
DC: Definitely,
MA: Absolutely
What do you have planned for 2011, plans to come back in 2012?
MA: Yeah, we definitely have it on the radar, nothing set yet but we have Warped Tour as soon as the record drops, that goes to August, we're doing Soundwave Revolution in Australia, we have another tour we haven't announced yet but we're doing something really sweet that I think the kids will be really pumped on and then we're trying to do a proper Eurpoean tour.  We're still in the planning process for all that, trying to cram it into what's left of the year after August but yeah, we're just going to stay on the road keep touring as long as the record and the kids will allow us to.
Related stories: Set Your Goals release new song
Get more Set Your Goals news here.