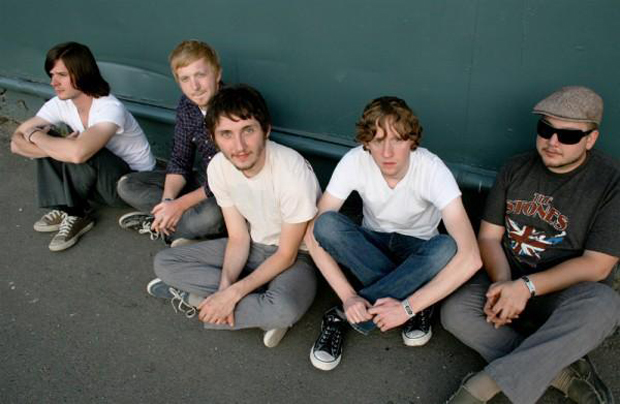 Kenny Vasoli, frontman of The Starting Line pauses briefly to catch his breath. "You Know," he begins, utilizing the little time he has to speak before the rabid Slam Dunk crowd demand more songs out of him, "people keep asking us when we're going to get back together."  The packed-like-sardines Jager Stage rabble make enough noise to lift the roof.  "And i've been telling people that the answer to that question is yesterday" declares Vasoli proudly. And with that, it's done.  He's single-handedly sent this sweaty mass of Slam Dunkers over the edge.
If you were to ask any festival goer in Leeds last weekend where they would be at 7pm, you would get the same answer from almost all of them.  Slam Dunk 2011 marks the first UK show for Pennsylvania's The Starting Line in over five years.  Anticipation was high and fans certainly didn't leave disappointed.  We were lucky enough to grab a few words with guitarist Mike Watts during the band's brief UK stint to discuss why they chose Slam Dunk for their triumphant UK return, how it feels to be touring together after a lengthy hiatus and just what the future holds for this newly reformed act.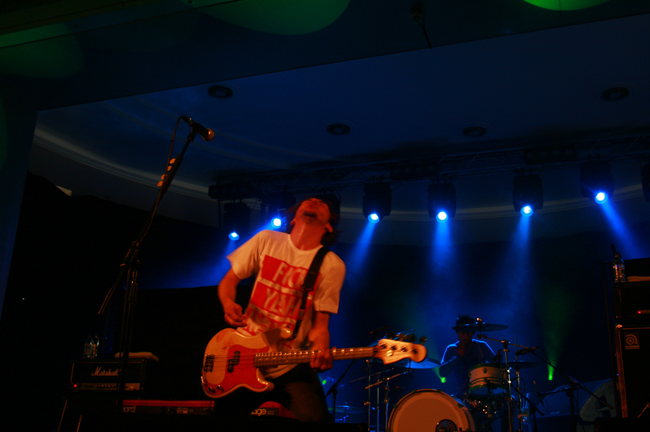 First off we'd like to say it's so great to have you guys back over here, it's been a while.
I know you are being selective with dates at the moment. What made you choose Slam Dunk festival?
We've heard great things about the festival and the Slam Dunk Club Nights, and being that we haven't been to the UK in forever, it seemed like a perfect idea.
How's the tour going so far?
We actually just finished up the tour, but it was unreal. It was such a welcoming response, and certainly makes us want to come back ASAP.
How does it feel to be back on tour together?
It feels really natural and great. I think we took enough time away from the band to truly appreciate what we had, as well as appreciate each other. It felt as exciting as it did when we were first starting out.
Do you have a favourite place to play in the UK?
I've always enjoyed Manchester and Glasgow, however, Leeds must be mentioned as a favourite after playing Slam Dunk.
You were in Manchester before the festival dates, if you get time to hang out in the UK, where do you like to go?
I generally like to just explore the city, the UK has lots of old and beautiful architecture, and I'm a total sucker for that stuff. At night, I like to round up the guys and head to a pub or a club, and then head over to a kebab shop late night (we don't really have those in the states, so we live off them when we're here).
How do you guys typically spend your time on tour?

Everyone has different hobbies and interests. Kenny is usually working on music. I manage bands, and am usually nerding out on my laptop doing work stuff. The other guys hang, watch movies, go on the internet etc.
How do UK shows compare to US ones?
I feel like the scene here is just wild, I feel like the fans really make the whole show an experience with how enthusiastic they are, and that 's what really gets us going. The UK fans are amazing.
You guys recently played SoundWave festival in Australia. How did it feel to be touring the world again?
It felt great, and like I said before, really natural. It was like we didn't skip a beat.
You just announced four East coast shows, is this the start of something bigger? A full US or even UK tour perhaps?
Honestly, I don't know. We really don't want to get ahead of ourselves, it's fun playing 5-10 shows a year, and it really makes us want to do it more often, but we're all in places in our lives that will require some interesting ways to make a "full tour" happen (we have jobs etc). However, we can do a UK tour in a week, and that's totally possible.
Did you guys hang out much during the hiatus?
Most of us did, or if we didn't hang, we would at least catch up with one another.
Can we safely assume the hiatus is over?
I think that's safe to assume.
At your last Holiday show you played a new song. Can we expect new material at the UK dates?
We played a new song called "Luck", I thought it went over pretty well.
Speaking of new songs, are their any plans right now to record a new album?
There aren't any plans at the moment, we tend to move at a snails pace.
How does working with The Starting Line again affect side projects and other commitments?
We haven't really done TSL full time up to this point, and there aren't really plans of touring 9 months out of the year like a "traditional band".  So it hasn't really affected any other commitments.
Your show is the talk of this year's Slam Dunk festival.  What do you think it is about your music that fans relate to?
I think we're lucky enough to have really connected with fans as they were sort of growing up, and also lucky that we were able to grow with them.
Keep up to date with The Starting Line by heading here.
Check out our live shots of The Starting Line's Slam Dunk North show here.
Words and live photography by Simon Bland
Interview by Steven Kenney