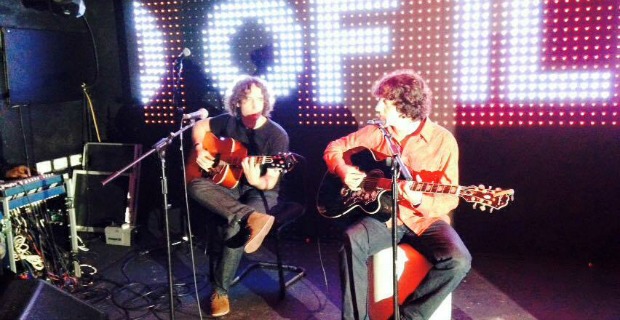 As I meet Some Kind of Illness at Bolton Markets, where they're due to feature on the local radio station's live showcase, the brothers Hinks are looking decidedly dishevelled. The payment-in-drink policy at their own 'Crossroads' open mic the night before is referenced for its unavoidable consequences, but with the aid of some dark sunglasses and trademark tousled hair, they're both looking the part if not feeling it.
But these are no rock 'n' roll posers – the Hinks brothers, Paul and Mark, have lived their lives through music and are now reaping the benefits. Over the past year they have played tirelessly around the Northwest, with headline gigs at Manchester's Academy 3 and Band On The Wall their personal highlights. All the while they released a steady stream of beautifully ethereal music to accompany their well-received self-titled album, released in March to various record shops. Not bad for a band who were close to going their separate ways.
"There was a lot of life stuff going on for both of us" offers Mark, the guitarist and elder brother, by way of explaining the turn of events, "and we just felt we had to go out and do it."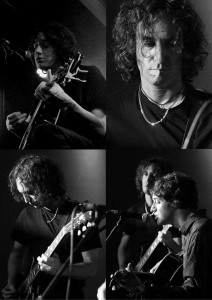 Mark was ready to give it all up when Paul's own heartbreak sparked a surge of creativity, which persuaded him to get back by his brother's side for what was to become the biggest year of their musical careers to date.
"I was always the one years ago trying to push Paul to do stuff, but all of a sudden he was the one who was saying 'we've gotta do it'. And when we started writing again – well, we're writing better than we ever have. Sitting down and creating music with him is one of the greatest things for me."
Paul echoes the sentiment, and states that the benefits of writing with his big brother are simple: "He's a better lyricist than me."
The love and respect Mark and Paul have for each other is key to how far they have come over this past year. Sitting in the back room of a town centre pub, many hours after their understated yet triumphant radio spot, the pair trade compliments over pints. After various incarnations of the band over the years, the two now only have to rely on each other, but they are always keen to collaborate with a wide variety of artists.
Paul has even taken to sourcing poems to complement their ambient musical soundscapes ("Genius" says Mark), a creative practise that is increasingly informing their new ventures, including newly-released EP Stratus Dream with Birmingham-based musician Luna – written, recorded and released within a week.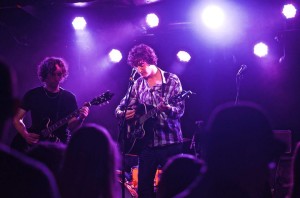 Despite their own confidence in their prolific output, this whirlwind year has surprised the brothers, with Paul in particular seeming genuinely touched by the response to their music. "It becomes like an obsession," Paul confesses. "Even just looking at how many people have liked the Facebook page, I'm thinking – this time last year we'd hardly even played a gig, and now we've done all this stuff and people are saying 'I like this tune, I like that tune' – it's amazing."
The two now serve to drive each other forward, with Mark writing more for their forthcoming album than the previous, but he insists that it is still a collaborative process. "A lot of the time I only write the song 'cause Paul comes to me and says – 'I've got this guitar part' – and it can be so beautiful and inspiring – that's what unlocks it for me."
With the new album well underway and touted for release in January 2016, the Hinks brothers do seem to have unlocked the secrets to their own success and happiness simply by finding comfort in what they do. They only have each other to rely on now and, so clear it is that they live for their music, you can't help but hope they get what they deserve.
To find out more about Some Kind of Illness, visit their Facebook, Twitter or Soundcloud pages.
Words and interview by Tom Welsh (@TomWelsh109).
Keep up to date on all the latest Northern entertainment news by following us on Twitter, Facebook and Google+.