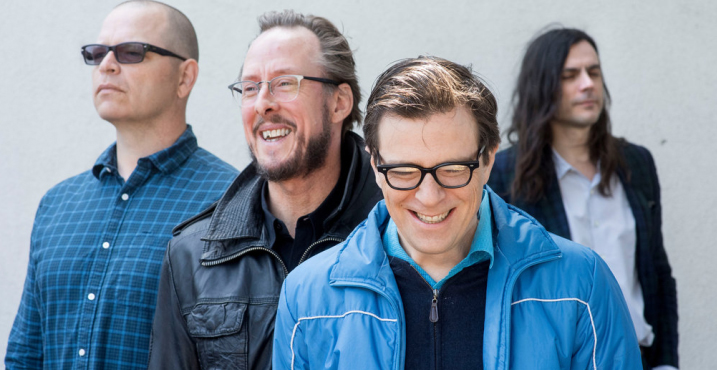 If you're a band with an extensive back catalogue of hits and a track record of not doing many Manchester shows then every moment you're stood on stage in our city better be used wisely. LA garage geeks Weezer fit the bill perfectly and luckily for us appear to share the sentiment during their visit to the Apollo this week. As spectacled frontman Rivers Cuomo starts ripping into a trio of early hits including the blue album's "The World Has Turned And Left Me Here" and "No One Else" and Pinkerton's The Good Life", it's clear from the get-go that the band seem determined to cram in as many treats for the eyes and ears as they possibly can.
Performing under a giant glowing 'W' that pulses perfectly in time with their musical movements, Weezer power through a set that gives preferential treatment to old favourites. This reflective mood is probably due to the fact that their eleventh and latest album Pacific Daydream is mere days away from release and largely unheard however they don't shy away from new material. Fresh singles "Happy Hour" and "Feels Like Summer" get an airing during tonight's set but they're nestled between a pretty bulletproof selection of hits.
The blue album's "Surf Wax America" raises the tempo early on, with riotous Pinkerton anthem "El Scorcho" uniting tonight's audience during its triumphant chorus. Meanwhile it's reassuring to see tracks like "California Kids", "King of The World" and "Thank God For Girls" from 2016's joyful white album fit so seamlessly between band staples "Pork and Beans", "My Name is Jonas" and "The Sweater Song". Fans are loving it and Weezer seem pleased too. "We don't come here nearly enough," admits Cuomo mid-way through the show, "so we're going to come to the UK each year."
Dreamy green album track "Island in the Sun" starts steering things to a close, with the thudding "Hash Pipe" adding a little extra energy late in the game. A double-punch of oldies round things out with a bang, bringing tonight's set full circle and back to blue album territory with "Say It Ain't So" and that quintessential Weezer tune "Buddy Holly". The crowd cheer, engulfed in two clouds of confetti that've just bust from the stage. Here's hoping Rivers and co make good on that promise to return.
Words by Simon Bland (@SiTweetsToo).
Keep up to date on all the latest Northern entertainment news by following us on Twitter, Facebook and Google+.