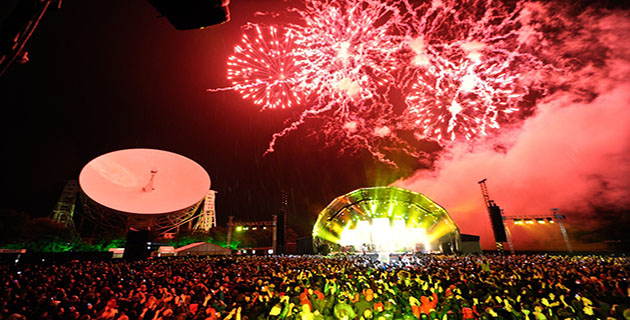 Knob off winter, you chilly so and so, it's finally time to start looking forward to summer again. While we watch the fading snow turn that gross brown colour we can start preparing for the bestest part of any year, the multitude of summer music festivals on offer. It's around this time where most events start announcing their line ups and us punters start judging them accordingly. One announcement in particular immediately caught our attention and forced us to make a bold proclamation. Ready for it? Live At Jodrell Bank 2013 will be well good. That's not opinion there, that's fact. Allow us to explain…
Of course, this is no new festival. Taking place in the heart of Cheshire below the mammoth Lovell telescope, Live At Jodrell Bank has been going for a few years now. It's seen bands like Elbow, The Flaming Lips and Paul Weller all perform on its breathtaking stage and play to thousands of eager fans. What's more, Live At Jodrell Bank is a festival with a thinking cap. Instead of encouraging its attendees to drink until their stomachs weep sicky tears, they invite them to broaden their horizons and learn something new via a selection of workshops and on site experiments. Its previous iterations have been far from disappointing but they haven't been well good. 2013's festival will be well good.
Why? Because the team behind the event have bagged none other than Iceland's most atmospheric export Sigur Rós to headline the first day of the festival. This is possibly the perfect marriage of band and venue. The chance to experience the haunting tones and intimate howls of Sigur Rós in such a picturesque environment – outdoors, at night time and beneath the stars is enough to get any music fan excited. Besides seeing the band perform in their native Reykjavík, this is surely the optimum venue you could hope to see them play. In the UK at least.
It's also important to remember that it's still early days. Unless Rebecca Black randomly joins the bill, the line-up can only get better.  It's like we've found one last Christmas present hiding right at the bottom of our stockings. One that'll keep on giving, spouting out more sure-to-be excellent line up additions, hands-on sciencey goodness and event news until everything kicks off on August 30th. Every festival experiences a year where it truly comes into its stride. Where it graduates from being a word-of-mouth maybe-i'll-go festival to a must-attend, big ticket contender. This could be Live From Jodrell Bank's year. The year you'll remember as being well good.
Tickets for Live From Jodrell Bank are priced at £35 and can be bought here.
Be sure to 'Like' us on Facebook and follow us on Twitter to keep up to date on all the latest Northern music news!