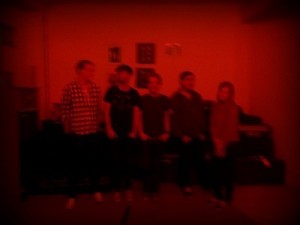 Here at Northern Noise we like new music. To be fair it is our job. You come here to read about new music (whether it's from old or new bands) and you come to our gigs to hear it live.
This new regular feature will take a band that is reasonably fresh in the Northern music scene, and gives them the opportunity to communicate directly to you, the potential fan.
They get to say in their own words who they are and why  you should give them even the tiniest amount of your attention.
First up is Civilians.
Band Members:
Andrew Schofield – Vocals / Guitar
Phil Higgins – Guitar
Daisy – Keyboards
Joe Naber – Bass
Ben Bibby – Drums
What They Have To Say:
"We are trying to create something a little bit different in terms of Manchester music, its an alternative sound mixing up some technical guitar lines, catchy choruses and spoken lyrical verses.
We were formally known as Violet Youth but decided to change our name to compliment the new style of music we were writing, with two new additions to the band writing has become more grown up. As Violet Youth we played venues around Manchester such as the Ethiad Stadium and a tour around Germany. As Civilians we are looking to do more of the same but even bigger this time, this band is all brand new.
Over the years we have worked hard on our live show to make sure we give the best performance possible, making sure the crowd are involved and they get their money's worth. We are lively and energetic on stage with songs you can join in with. Our music is very different to anything out there at the moment, so if you want to broaden your horizons with what you listen to, you need to listen to Civilians."
What We Have To Say:
We were fans of Violet Youth so if Civilians are a grown up and mature improvement then we can't see any reasons to not like them in their new form. Check out their song Poland below and let us know what you think!
words by Daniel Savage (@nosauceplease)