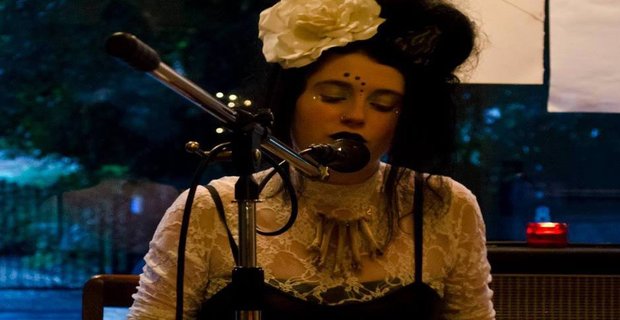 It's that time again where we stick another fresh-faced musician into the hot seat and ask why exactly we should care about them or anything they do. This month, Sheffield's mood-art music maker Ruby Tingle presents a overwhelmingly strong case as to why she's worth a listen or five. You'll undoubtedly have no trouble remembering her name so be sure to keep it in mind when wandering the rainy streets of Manchester. Having recently relocated to our fine city she'll likely be a staple figure on the Northern gig circuit before long.  As always, let us know what you think in the comments section below…
Members: 
Ruby Tingle – Vocals, Piano.
What She Has To Say…
"Originally from Sheffield I have been writing my own music and performing in bands, playing piano and singing from an early age, going solo in 2006. I struggle to fit a genre to my music- it has been described as being strange, superstitious or macabre; I'm often compared to Kate Bush because of my high singing register (a compliment that's quite hard to grasp!) My lyrics are surreal and cryptic, often inspired by dreams and mythology, even re-writing nursery rhymes – I like to tell stories based around characters that are interwoven with my own thoughts and experiences. Themes such as ritual, sex and metamorphosis often occur in my songs; music for me is an outlet that I need, a space to be dramatic, personal and deal with issues that I find difficult to carry around in day to day life.
My influences come from a range of sources, music by The Creatures, Bjork, Tom Waits and more recently artists like Harry Partch and Baby Dee. I also take from classical music, writers such as Angela Carter, natural history, cryptozoology, film makers like Jan Švankmajer, animal transformations, art from the surrealist movement… My own artwork is also an essential part of the music I make, a lot of the collage scenes and characters I create inspire songs and vice versa- I hope that my music has the ability to affect the listener visually as well as audibly.
"My two EPs that are available at the moment (Four Demons and Four More Demons) are collections of old and new songs that I have worked into- the project has been very exciting so far as the ideas I've had for many years are finally becoming a reality. Moving away from the piano after the initial writing of a song and being more experimental is allowing me to create the dark and otherworldly sounds that I've always wanted to make. Using instruments like accordion, cello, shenai and making my own rhythm sections out of jars and pots and pans has been fun and really brought my songs to life. I put a lot of effort into the physical releases, designing the layout, colour scheme and artwork myself. I love owning physical copies of people's work; I think good packaging always enhances the listening experience!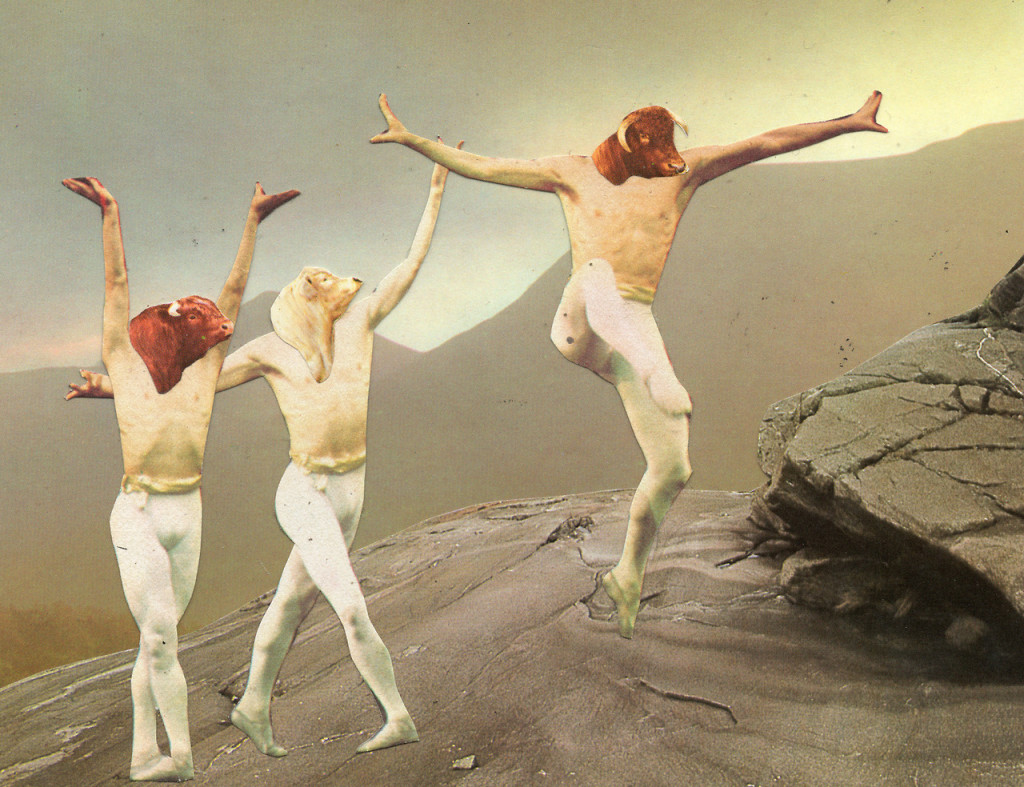 "My live performances are usually just me and a piano, stripped down versions of the songs – though this is developing with my sound at the moment, so future gigs will see me playing with other musicians, incorporating instruments and electronic elements that appear on my recorded work.
"The rest of 2013 will be spent recording the last two EPs in the Four Demons series- The Shanties will be released in November and Hymns for the Men in 2014, along with an eight track album to conclude the project. The next EP will feature more programmed electronic rhythms and some experiments with prepared piano- expect ballads of sea monsters, shipwrecks and fish headed men! I'll be gigging to promote the releases over the coming months – even though not as often as I should, when I do play I always try and make it something special!"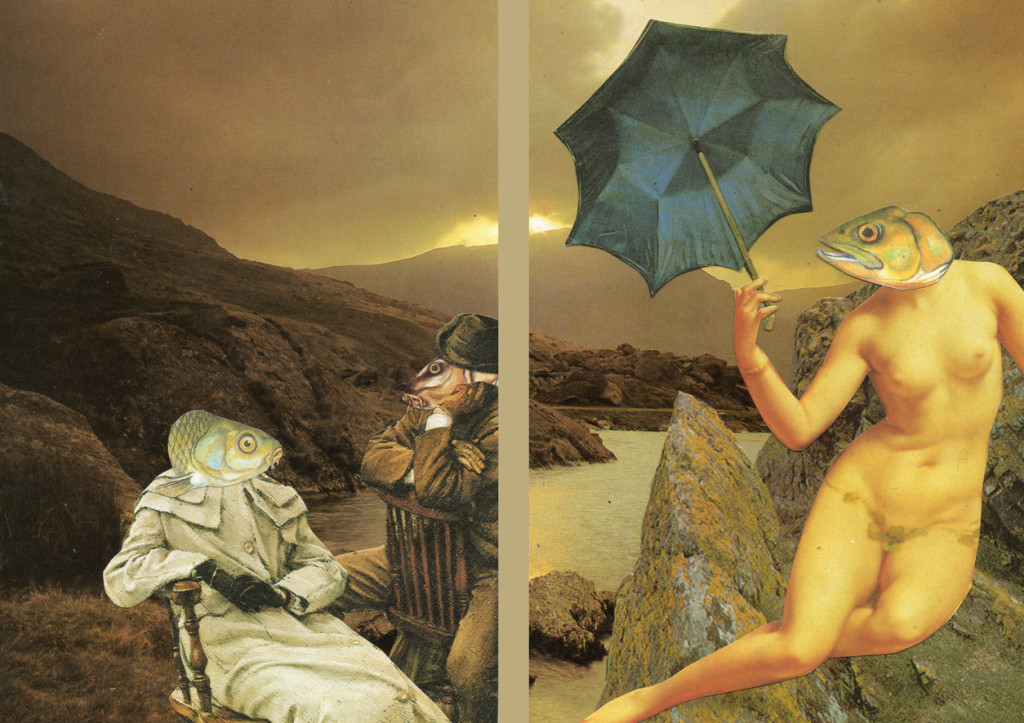 What We Have To Say…
"Eerie stuff, isn't it? But we like. Throughout the foggy resonance of Ruby's clearly poignant sounds, the silhouetted figure of some big-wigged influencers is clearly present. The bare-bones transparency of Gold Worm thrusts the haunting vocals of this Sheffield singer-songwriter to the forefront of the whole affair, making those Kate Bush comparison's mentioned above an apt observation. Meanwhile the otherworldly chill of EP tracks Circe, Down at Cobweb Market and We Want Because They're Strange sound like the type of surreal music David Lynch should be making instead of all that Crazy Clown mishmash.
"The art's a nice touch, too. While we're on the subject of surrealism, it's worth noting that Ruby name-drops Czech film-maker Jan Švankmajer as being a major influencer. One glance at her collage-on-shrooms work and you'll see the Švankmajer influence clear as day in her dismembered animals and uncanny body parts. We don't know about you but we feel that Ruby's music and her art are best viewed as one collective whole, each complimenting the other and creating a sensory sonic landscape that manages to go beyond the aural. It's impressive stuff, basically.
"With a busy recording slate scheduled throughout the remainder of 2013 and into next year, it's clear that Ruby knows exactly what route her music will take. The sly hint of more instruments, more experimentation and a full band accompanying her at shows does nothing but fuel our excitement to find out just what she has hiding up her sleeve."
Learn more about Ruby Tingle on her Tumblr, listen to her music on her Sound Cloud and by her EPs over at Bandcamp.
Words and interview by Simon Bland. (@SiTweetsToo)
Be sure to 'like' us on Facebook and Follow us on Twitter to keep up to date with all the latest Northern Music News!