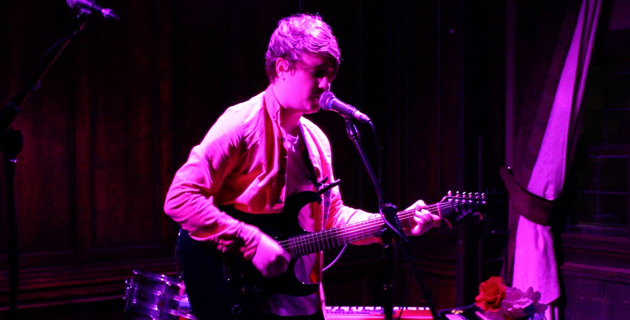 You may recognise Dance Savage (or Daniel Savage as he's known when the guitar's at home) as the awesome host of many of our Northern Noise Live events. Tired of being in such close proximity to the wealth of talent on offer in Manchester's music scene, he decided to head into the studio and do it himself. The finished result is new EP The Place I Started From, a polished effort that perfectly showcases his uniquely homegrown range of talents. We invited staff writer Dante Gabriel to check out his stuff and tell you exactly why you should be caring about this Mancunian music man. Here's what they both had to say…
Members:
Daniel Savage – Vocals, Guitar
What He Has To Say…
Currently poor, unknown and 5ft 6.
I've been in and around the Manchester music scene over the past few years as a promoter and reviewer. It's been amazing to be involved in such a vibrant scene and it's the community and talent that I've had the pleasure of booking and viewing that really inspired me to swap from being behind the scenes, to being on the stage. I also love being centre of attention, which helps.
I'm no stranger to the stage though. From the age of 18 (I'm 25 now) I originally wanted to be a comedian. I did a number of shows in Manchester and London but never really felt as comfortable or as welcomed by the community as I did with the music scene here in Manchester. I was either ahead of my time or just not funny.
So, after seeing all this new and great music, in 2013 I started working on my debut material – The Place I Started From EP. This was recorded with the producer Joel Atkins and is free to stream on my soundcloud.
Initially I wanted to sound somewhere halfway between The Smiths and The Streets but there's a million different influences really. I'm still working out my sound but the process of recording has been incredible and I can't wait to get back in the studio next year and record some completely new audible attempts.
Performing on my own means that the tracks have to be stripped back, but I love putting on a show and interacting with my audience, so if you come to see me be prepared to hear me tell stories and anecdotes with a healthy amount of self deprecation. However, for bigger gigs like my upcoming EP launch, I'll have a full band to really recreate the sound on the record which will allow me to be the front man I've always wanted to be.
Essentially I'm just enjoying myself, learning a lot and trying to meet as many people as possible. My plans for the rest of the year is to do a number of support gigs leading up to a sold out EP launch in the summer. I'll also be filming a video for one of the tracks and hoping to get as many people as possible to listen to what I create.
I'm trying to come up with ways of communicating with fans that doesn't involve just "liking" a Facebook page. I blog as often as I can and I really want to give as much stuff away as possible, building a relationship with fans that will last longer than any of my past relationships. Please check out my website – www.dancesavage.com and my twitter (@nosauceplease) for updates and more self indulgence.
What We Have To Say…
Dance Savage is a new up and coming artist from Manchester. The first track on his EP "When Hearts Fall" starts with a positively upbeat intro leading to his firm but alluring voice adding to the ambience of the track. It is consistently pleasant to the ear and in a industry over saturated with generic pop he brings listeners back down to earth with a mix of indie dance music and catchy beats that you could groove to at home or in a club.
His second song "Jackie's Garden" is another catchy but deep song with a more mellow beat and is reminiscent of a young Noel Gallagher singing of a time not forgotten, enjoying life and reminiscing good times. His vocal expression hits all the notes with a linear back track that avoids a deviation from his tone. Definitely a song that could become a classic.
The third track on the EP is aptly named "Don't Hide" and it is exactly what Dance Savage should do given his obvious talent. His music style could be linked with the original Oasis songs of the early nineties. Along with subtle hints of the Arctic Monkeys. Definitely something That could be headlining at the Hacienda a few decades ago.
The final track on this EP "Make You Look" is the gentle ending to a well rounded EP, the beats all going great with his vocal style along with the pauses and note all perfectly timed. As long as this new artist follows the road he has chosen he will be going places. We should all look forward to seeing him on the stage in the future.
Words by Dante Gabriel.
Be sure to 'like' us on Facebook and follow us on Twitter to keep up to date with all the latest Northern entertainment news!