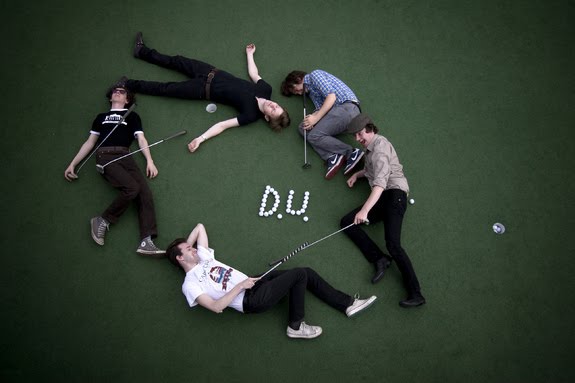 Manchester indie outfit Dutch Uncles announce details of their forthcoming debut album entitled 'Cadenza' due for release April 25th.  However, this technically isn't the bands first album, having released a quickly assembled, self-titled record in Germany back in 2009.  This time around, the band have bigger plans, spending the majority of last summer locked in a Salford recording studio with producers Brendan Williams and Phil Bulleyment "experimenting and stretching their songs into new and unexpected shapes".
Northern Noise was at Dutch Uncles recent trip down south where the band played alongside fellow Northerners Egyptian Hip-Hop at New to Q Session for Q Magazine.  Check out some exclusive pictures from the event here and a live review here. You can also check out the track listing for Dutch Uncles debut below, as well as the bands upcoming tour dates.
'Cadenza' track listing.
1. Cadenza
2. Fragrant
3. Sting
4. Dressage
5. OCDUC
6. Dolli
7. X-O
8. Orval
9. The Rub
10. The Ink
11. Zalo
2011 tour
FEBRUARY
21 BRIGHTON, Prince Albert
22 BRISTOL, Louisiana
23 LIVERPOOL, Shipping Forecast
24 NOTTINGHAM, Bodega
25 BIRMINGHAM, Victoria
26 LEEDS, A Nation of Shopkeepers
27 SUNDERLAND, Pure
28 GLASGOW, King Tuts
APRIL
07 PARIS, Gaite Lyrique (Festival Super Mon Amour)
27 LONDON, XOYO
30 LEEDS, Live at Leeds Festival
MAY
12 BRIGHTON, The Great Escape Festival
21 MANCHESTER, Friends of Mine Festival