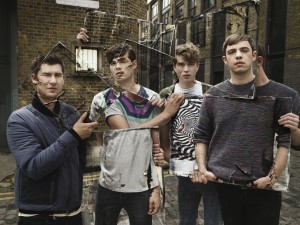 It's been an exciting few months Everything Everything. After rounding up an express UK tour, they wrapped up 2010 with a super special gig at London's Union Chapel (which is available right here), making sure that they were the band on everyone's minds entering 2011.
We're not even two months into the New Year and they're making waves again.  It was announced yesterday that Everything Everything were the winners of the Times Breakthrough Award at the 15th South Bank Sky Arts Award show in London.  It's the only award at the ceremony that's decided by public vote and previous winners include Florence + The Machine, while The XX were short-listed just last year.
This could be the beginning of a string of award wins, with their debut album Man Alive nominated for the Guardian First Album Award, whilst also being short-listed for Best New Band at the NME Awards.