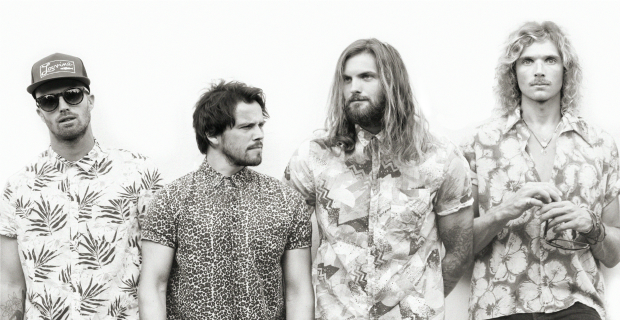 The very name Sunset Sons encapsulates much of the sound that this band create. Making waves on the music scene for the last couple of years, they were seen performing on the BBC Introducing Stage at Reading and Leeds festival last summer. Categorised as 'one to watch' this year, selected by the BBC Sound Poll of 2015 and MTV's Brand New, the band are set to release their third EP The Fall Line in March, followed by their first UK tour to date.
They have that sort of positive pop rock feel reminiscent of Train and the lighter shades of Kings of Leon. They are the sort of band that would have appeared on the soundtrack of One Tree Hill, which along with the likes of Gavin DeGraw and even Led Zeppelin, is a comment not to be sniffed at. There is a sincerity and originality in the music that makes it fresh; it fails to fall into that category of another indie band trying to make a breakthrough.
The Sons are made up of three Brits and an Aussie. Initially meeting in the coastal Soorts-Hossegor in France, they shared not only a love of music but also surfing, something that has inspired a particular movement in their music. It makes it very up-beat, forcing you to tap your feet along. Their first E.P Le Surfing has a very summery vibe, track "On The Road" holds a strong beat throughout, audibly summarising the physical strain and the constant movement of touring; it also captures the excitement of it.
Their most well- known track "Remember" taken from the second E.P No Bad Days is instantly catchy and familiar. It's the sort of songs that jumps out from the background noise that the kitchen radio sometimes embodies, and makes you grab your phone to Shazam. You find yourself captured by the steady build-up of instruments supporting the bold hook "I win, you lose. It's only for us two."
The band start their tour in Manchester, playing the Ruby Lounge on the 6th of March and continue making their way through a number of cities across the country. Now signed with Polydor Records, their third EP and single Medicine is sure to create a stronger foundation for their undoubtable, future success.
Words by Amy Forde (@Acerbia17)
Keep up to date on all the latest Northern entertainment news by following us on Twitter, Facebook and Google+.