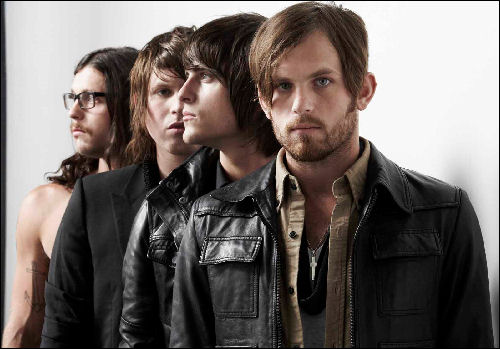 Well what can we really say? They don't need much of an introduction, with being one of the biggest acts in the world at the moment. Kings Of Leon are today (June 19th) playing to a sold out Manchester crowd at Lancashire County Cricket ground. A place where usually people snooze or read a paper while a four day cricket match reaches its thrilling conclusion – a draw – will today be packed with an enthusiastic crowd, looking to hear outstanding indie classics including The Bucket, On Call, Molly's Chambers, and lest we forget, Sex On Fire. Today there'll be no chance of rain stopping play, all we can do is hope that the pigeons stay away!
Support today comes from fellow Nashville outfit, Mona, who take to the stage at 18:00. The four-piece released their self-titled debut album, last month and sound suspiciously like the headline act. The band were touted as ones to watch in the BBC Sound Of 2011 and have the same raucous energy on stage. We interviewed the band way back in January before they played their first ever UK gig (we're so bloody cool y'know). Be sure to have a read of what was truly an incredible interview here. Having seen them at Night & Day Cafe, and Leeds Cockpit, we can safely say that they are seriously good live – we're not being paid by them they just are. If you can get inside the venue before 18:00 you're in for a real treat.
httpv://www.youtube.com/watch?v=_YVY3JYgWHs
After blowing our beans over Mona, we'll keep the rest of this a little bit shorter. Next up will be London's mood laden three-piece, White Lies. Their recent album, Ritual, has received rave reviews in the press and should provide for some excitingly melancholic moments if you know what we mean.  They'll be on the stage at 19:00 for a 50 minute set!
httpv://www.youtube.com/watch?v=J9_mOzQsWec&feature=fvst
After White Lies the indie hipster himself, Zane Lowe, will be providing a 40 minute DJ set, showcasing some of the hottset new music and hopefully some classic indie anthems in built up to the entrance of the headline act. Zane will be spinning from around 19:45. Then it'll be time for the main event. Go to the toilet so you don't miss half the set, grab another beer and drink it quickly in excitement, then realise you're inevitably going to need the toilet about half way through the set. Kings Of Leon will be performing a stand-out gig consisting of old and new from their five album back-catalogue. They'll be on from 20:30-22:30!
Here's a cool video from way back in the day…
httpv://www.youtube.com/watch?v=uLaJkbkG5NI
Other Stories
Kitty, Daisy & Lewis interview