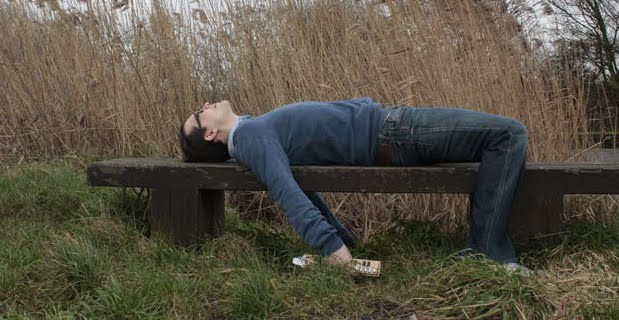 Our April 21st NN Live gig sees Levenshulme's Rough Fields recreating his soothing electro-acoustic sound-mosaic using live looping in the intimacy of The Castle Hotel. The man behind the project – James Birchall – self-produces in a spare room, incorporating field recordings and unique percussive instruments ("boxes, crates, tins, tent-pegs…") to create uplifting distinctive textures.
Already a series of acclaimed EP's have been released via his Bombshop label and the full-length debut Edge Of The Firelight is all set for March 26th. He tells us what to expect from the album and live show…
How long did you live in Manchester for and where did you reside?
I was born in Levenshulme, but did most of my growing up in the High Peak. I didn't live in Manchester again full time until I moved to Moss Side in the early 00s. Stayed there for a bit, then moved to just off Brook Street, behind Sand Bar. That was a good place to live – Sunday constitutionals around the city centre, the invigorating roar of the A57, constant and easy access to Abdul's. Everything a boy needs.
 When did you decide to make the move to London and for what reasons?
I lived in Paris for a few years before moving to London. Paris is an amazing city, its music scene is massively under-rated. But you start to miss things you never knew you valued – flat brown ale, self-deprecating comedy, the invigorating roar of the A57, constant and easy access to Abdul's…
 How difficult was it to meld together strands of different music you'd made under different pseudonyms and decide on one project?
Very. I still find it difficult when I produce something not to immediately assign a pseudonym. I suppose it's a combination of hiding behind identities and the early stages of a more serious psychological problem.
 How do field recordings form part of your music and what is it about this approach that you enjoy?
I love the depth they give to a sound and the many different ways you can weave them in. They also stamp a track with a real, personal element; the sound of a place and a memory.
 What unusual instruments/recordings make it onto the current EP?
The percussion is all found objects – boxes, crates, tins, tent pegs, mousetraps, chopsticks, pans, body parts (mine – not, like, severed). Most of the instruments I play are broken in some way broken, rescued from skips or found in random places.
 Are you as unstructured as the track Behave suggests? Do you have a tendancy for downward-spiral?
Yes
 What is your relationship to Bomb Shop? Are you the label owner? What is it that sets this label apart?
I started Bomb Shop maybe ten years ago to release my electronic stuff. It has evolved a lot since then, and we've got some really special artists on there now. Pairs (from Shanghai) were the last folks to join the family – they're pretty amazing. We're about to launch a series of events featuring our artists and friends, starting in London and moving outwards. First one is in Brixton with Hong Kong in the 60s and Fierce County, then Dalston with Maria Minerva on the 12th April. Product-wise, we hand-make all our cassette and vinyl releases, keep everything limited and special, try to unearth unique music and art.
 Why do you want to recreate your music with a band having produced it yourself?
Mostly because I want my live performances to actually be live – no backing tracks or glorified karaoke. I'm doing solo/duo shows too, though, like the Castle Hotel show, which are a lot more stripped back. Still "live" though, everything heard is played.
 What is it like to relinquish control to others?
I'm a complete control freak. I rarely relinquish control.
 Why would you say your music is important artistically?
It's important to me because it provides an expressive outlet for the howling noises from the edges of the universe which beat unceasingly on my brain. I don't know if it's important to anyone else.
 When is the debut coming out and how has the approach to this differed from the EP's?
Album is 26th March. It actually contains a couple of tracks from the EP's. The approach is largely the same – hit some stuff, play some guitars, drink too much, turn the subs up, add general outpouring, repeat. It's pretty wide, stylistically – there are elements of house, dub techno, minimalism, folk, noise… I'm not trying to cover all bases, I just can't bear writing the same song twice. Don't see the point.
 What are your hopes for the record?
I hope the CDs arrive before the release date or I'm fucked.
 What is its title?
It's called "Edge of the Firelight".
How long has the recording process taken and where did you record?
The album represents work from a 12 month period, roughly. I record my sound sources wherever I find them, then put it all together at home. The spare room acts as my studio when it isn't being used for tape manufacturing, stock storage, book sewing, zine printing, band-member sleeping, clothes drying or general office duties.
 What will the live show in Manchester be like?
It's going to be a solo (or maybe duo) show. Stripped down versions of songs, live loops, building textures. There'll be a promising start, a so-so middle section, several ill-advised knob gags, an intriguing but ultimately misguided denouement and a spectacular finish.
Questions by Simon Butcher Photography by Sarah Faraday