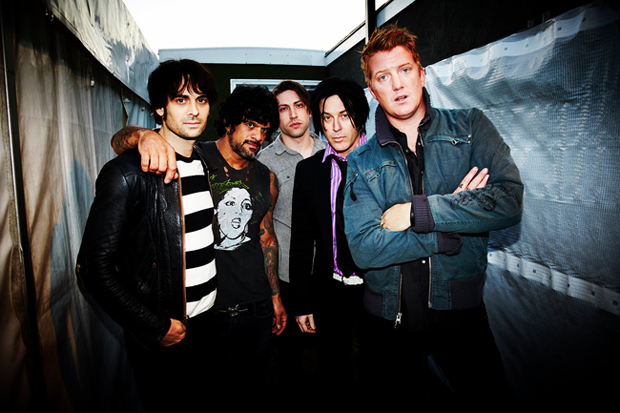 It's a humid Saturday night in Manchester. Despite rumours that the rapture is imminent all the usual touts are still out on Oxford Road, but tonight they have nothing to sell. They're all united in desperation with the gig-goers, scrambling to buy any spare tickets and having no luck. The last few are being held tight by a stern-faced scalper outside the Academy doors and are fetching £70 each.
Inside the over-packed Academy there's a palpable sense of anticipation hanging over this gig, in which the world-conquering survivors of the Palm Desert scene, Queens of the Stone Age, are set to play their recently re-released eponymous debut album from start to finish. When tickets went on sale a few months ago the demand crashed websites and saw hundreds of fans queuing for hours before the Academy box office opened. I systematically failed to get a ticket at the time and had all but given up until I lucked out on one a few days ago.
I'm at the bar buying a round of quadruple vodkas when the crowd behind me emits a sonic boom that could skin a whale. I turn around to see the band enter the stage, bathed in nuclear white light, and without a word they rip the Academy to shreds with the opening chords of Regular John.
The place turns upside down in an instant. People mosh, people sweat, people dance, people sweat more. People make devil horns and throw high fives to strangers and throw crowd surfers at strangers. The one thing everybody has in common is an ear-to-ear grin that grows wider with each song, as if to say "I can't believe this is happening". The grin seems to be infectious- it even spreads to Josh Homme, in response to the ground-shaking roar of approval that comes after every song, even B-side The Bronze, and makes his between-song banter inaudible.
After ending their main set with a change to the album's order, playing the sprawling You Can't Quit Me Baby after the album closer and sing-along highlight I Was A Teenage Hand Model, the band respond to the deafening requests for more by playing fan-favourite Songs For The Deaf album tracks The Sky Is Fallin' and Do It Again followed by a selection of singles from their lengthy career.
While the smaller-than-normal venue and the mad dash for seemingly unobtainable golden tickets may have been irritating when I thought I'd miss the gig, in the end an on-form Queens of the Stone Age seemed to treat the gig as a chance to show their appreciation to a roomful of their most loyal fans by throwing them a huge party. As the sweat drips from the ceiling and Queens close their second encore with Lullabies To Paralyse-era single Little Sister, the crowd stumble, euphoric and dazed, into the post-rapture hell-scape that once was Manchester Oxford Road, where there is no sky and there are no trees or buildings or cars, and all that's left are billions of television sets tuned to E4, eternally spewing Friends repeats into infinite darkness. But still- what a gig.
SETLIST:
Regular John
Avon
If Only
Walkin' on the Sidewalks
You Would Know
How to Handle a Rope
Mexicola
Hispanic Impressions
The Bronze
Give the Mule What He Wants
I Was a Teenage Hand Model
You Can't Quit Me Baby
Encore:
The Sky Is Fallin'
Do It Again
Feel Good Hit of the Summer
The Lost Art of Keeping a Secret
Sick, Sick, Sick
Encore 2:
Make It Wit Chu
Little Sister
Words by Martin Smith.