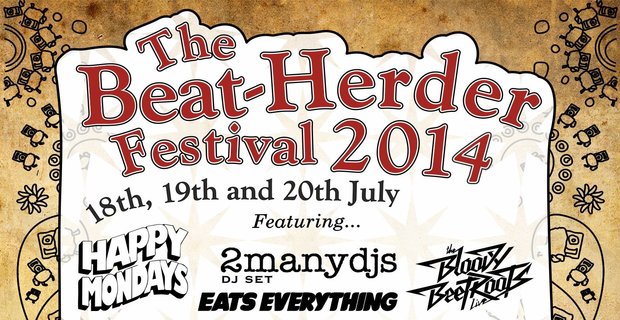 One of the last truly independent festivals of the North, Beat Herder grew out of the Northern underground party scene and ritually shuns corporate funding and sponsorship – it also forgoes heavy advertisings, keeping the festival a well-kept secret that rose up mostly through word of mouth. Tucked into the Lancashire Ribble Valley, Beat-Herder festival promises "three days of beats and barminess". This year sees the line-up staying strong to its party origins with house, electro and drum 'n bass music all on high demand – including eclectic house music genius Eats Everything and the funny, quirky genre-bending mixes of mash-up world leaders, 2ManyDJ's. Also headlining are Manchester's own alt-rock legends the Happy Mondays, oddball & unique hip-hop-house-rave-step-et-cetera-et-cetera duo The 2 Bears, ambitiously bizarre anarchist Italian electro-punk music-maker The Bloody Beetroots and last but not least, Leeds DJ and producer Hot Since 82, creator and remix-er of damn fine house and electronic dance music. But the best part of an indie festival isn't always the main acts – it's stumbling (probably literally) upon a never before discovered new act in a hidden stage somewhere and having your mind blown by music you never knew existed. With a grand total of twelve entirely different and unique stages, Beat-Herder is the perfect ground for this to occur.
Amongst a mystically lit grove of trees, the Toil Trees stage embraces the outdoorsy festival vibe whilst hosting ultra-talented electronic soloist Kidnap Kid and up-and-coming electro-funk DJ Greg Wilson. The fantastical and artistic Maison D'etre serves as a stage for surrealist romantic Bipolar Sunshine and ethereal singer and guitarist, the lovely Wolf Alice. Against the horizon, the tent-like dome of the Perfumed Garden stage welcomes you into the psychedelic groove of Mountain of Love and YouTube sensation, house pianist Davos. A formidable corrugated iron castle-slash-stage, appropriately dubbed 'The Fortress', complete with fiery ramparts, dancefloor courtyard and intense acts like the high-octane deep house and hard dance legend, female DJ Anne Savage (alias Dumb Blonde) and the hi-tech trademark intricate production of Far Too Loud's dancefloor tunes. And if all that's getting you a bit overwhelmed, feel free to retire to the Smokey Tentacles Shisha Lounge, where acoustic acts like Bells In The Birches and Afrobilly Jones intersperse with the glitch jazz and soul rhythms of four-piece Bristol band ESPAI. This is the eighth year running for the weekend festival, and while they've been growing and shifting into wider knowledge the festival hasn't lost the magic touch – from the wacky and wonderful stages to the art installations and posters sprawled around the venues, imagination, creativity, attention to detail and a wry sense of humor characterize the festival site, turning the whole area into a pleasant break from reality. It's a pity that Beat-Herder only lasts for three days really…you could probably quite happily stay there forever.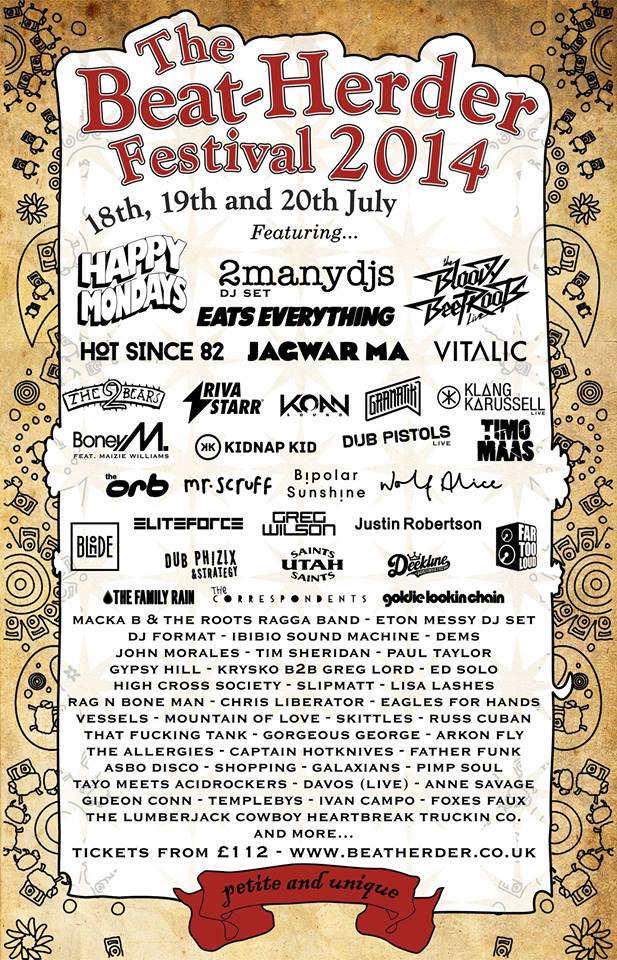 Words by Conori Bell-Bhuiyan (@ConoriBlue). Be sure to 'Like' us on Facebook and follow us on Twitter to keep up to date on all the latest Northern entertainment news!